One Day Jordan River Baptism Tour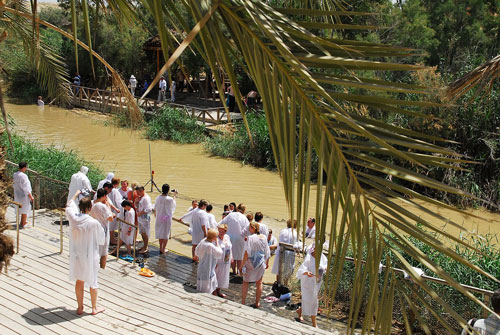 Jordan River Baptism Tour Package: 1 Day Private Tour
Full day tour into the Jordan River Valley / Jericho area with baptisms in the Jordan River.  Follow in the footsteps of Yeshua as you publicly commit your life to the King of Kings and Lord of Lords.
Tour Type: Private tour with private guide
Duration: 08:30am – 17:00pm
Price: from $170 per person (see prices below)
Wadi Qelt
Qasr el Yahud (Baptism Site – Bethany by the Jordan)
Jericho
View the Mt of Temptation
Qumran (Dead Sea Scrolls)
Swim in the Dead Sea
This is a private tour with a private guide and private transportation (where necessary).  You will not be a part of a larger group. Many companies offer slightly cheaper rates but do this by grouping people together into parties of 20 – 30 passengers per tour.
All entrance fees are included in the price.
Appropriate dress
Casual
Shoes – most people wear a comfortable pair of trainers
Swimming costume & towel
Some people take water shoes to enter the Dead Sea as the salt / minerals can make the sea bed very rough to walk on
Sun Cream – temperatures can become very hot
Passports – each passenger should bring along their passport in case of security checks